BLANCO is now proudly featured in the 46th Symphony Designers Showhouse located in the Historic Hyde Park in Kansas City, Missouri. The Designers Showhouse is home to the Kansas City Symphony Alliance, a nonprofit volunteer organization which promotes an interest in classical music throughout the Kansas City area.
Designer and Allied ASID member, Susan Prestia was able to provide BLANCO with a look inside the Symphony House remodel and what went into creating such a beautiful space.
Q: What was your inspiration for this design?
Susan: Historic Homes are great to rejuvenate. This 1911 house was built for a lumber baron so woods through out the house have wonderful grains and quality. Working kitchens of the day would have been in the lower level with a small prep kitchen and butler's pantry on the first floor. The house was a Kansas City Symphony Designers Showhouse in 2000. Just prior, the kitchen and butler's pantry was updated which opened up the kitchen and butler's pantry to one awesome ready for entertaining kitchen. Beautiful, dark mahogany stained cabinets (similar to Espresso) lined the walls along with slate flooring(back in style,history's repeating itself). Re-user friendly. I create eco-friendly designs so re-purposing is always in my forefront. Replacing the worn Corian top and molded sinks with eco-friendly products was a must. Cambria counters are sustainable products and because BLANCO SILGRANIT sinks are easy to maintain, this is a pairing I use over and over again. Featured are the PRECIS ™  Multi-Level kitchen sink with drain grids, cutting board and colander for the main sink due to the purposely functional drain board (BIG HIT at the Showhouse by the patrons, my first time using the sink, but not my last). My number one selling sink, the DIAMOND™ 1 3/4 undermount bowl with SILGRANIT® for looks, durability and ease for cleaning used in the butler's area. Both Cambria and BLANCO clean with just antibacterial detergent. The lines mimic the beautiful curve lines at the top of the bowl.
Q: What was your biggest design challenge?
Susan: Selecting products with a WOW factor and being camera-ready in 9 weeks.
Q: How did BLANCO help with this design?
Susan: Many years ago a sales rep introduced me to BLANCO SILGRANIT. The features and benefits of the finish sounded too good to be true. After a few installs and clients loving the design, easy maintenance and looking good years later, what's not to like. The BLANCO accessories sell themselves. Clients love that they form to the shapes of the bowls (custom made), and their friends all want one.
I'm so fortunate to have received the support from BLANCO at the 46th Kansas City Symphony Designers Showhouse. The pleasure of giving back to the community is made with the gracious help of our wonderful vendors. So the next time a child goes on a school trip to the Symphony for the first time free we can thank our wonderful vendors for contributing to the Arts. Thank you BLANCO for your continuing support of fine products and the arts.
What's big in homes these days is small. That is to say, many young couples starting out, downsizing empty nesters and singles of all sorts are reveling in their tiny houses or microapartments. After all, they don't need bookcases, record racks or a lot of other furniture that used to be thought essential. Once the futon is folded away, however, there's still the problem of how to turn out great meals in a tiny kitchen.
Here are five hints that can help.
1) Everything IN the kitchen Sink: You can now get a not-too-big sink with the drainboard built in. A cutting board and grid are also built in,
making the sink a functional working space.
The BLANCO PRECIS™ Medium Single with Drainer offers a crisp angular design, durable surface and a unique, wave-shaped, integrated stainless grid that effectively doubles the drying area.
Because it comes from BLANCO, it's made of SILGRANIT® II, which offers an extremely hygienic surface that's safe for food prep and easy to clean.
2) The countertop is where you can keep a lot of accessories. From knife and spice storage to paper towel holders, a decorative space-saving system is a great way to keep them organized.
A cleverly designed kitchen sink that includes a drainer and cutting board such as the PRECIS can help you create
great meals even if you don't have a lot of space.
3) Let things slide in your kitchen. That is, keep pots, pans, dishes and canned goods on sliding shelves that can not only let you use "blind" space but keep bending, stretching and searching for things to a minimum.
4) Things can be simply rolling along if you have a rolling cart, particularly one with a cutting board top and shelves or drawers underneath. You simply push it to wherever you want to do your kitchen work—or just to the part of the room that's least cluttered.
5) Rack 'em up. A ceiling rack will let you hang up your pots and pans where they're convenient to get to, out of your way and able to double as decorative accessories.
For more space saving fixtures, visit www.blancoamerica.com
The 2015 eBrochures are here including the new 2015 Showroom Catalog, SILGRANIT® Brochure and exciting new innovation brochures including the QUATRUS™ and ONE™ Collections.
You can conveniently link to each brochure by clicking on the image below or by clicking on the ebrochure tab above.
Designer and BLANCO Design Council Member, Marilyn Russell was recently asked to create a new kitchen for her clients based upon their love for European travel and fine wine. Marilyn welcomed this exciting challenge and with a little help from BLANCO she was able to put together a stunning space for her travel-enthusiasts.  Check out BLANCO's interview with Marilyn below.
Q: What was your inspiration for your kitchen design?
Marilyn: I drew my inspiration directly from my clients and their love for wine and European travel destinations. My clients were quite forthcoming and honest in what they wanted in their new kitchen. Crafting a kitchen based on their needs while incorporating aesthetics balanced with function was not overtly complex.
Q: What would you say was your biggest design challenge?
Marilyn: Like technology along with our daily needs, I think the use of kitchens have evolved from
being cooks only to becoming a central pod for family members. From reading to paying bills to family meetings, the kitchen is the primary destination in many households. Challenges may surface when a designer considers all those activities into a small to medium sized space. One such design challenge occurred with transforming an area within the kitchen that once housed a washer and dryer. The clients wanted the washer and dryer relocated to another desired location in the condominium and now we were faced with an empty space. We decided to transform this new space into a coffee/beverage station with a second sink, appliance garage and additional cabinet storage. The clients are quite happy with this transformation.
Q: How did BLANCO help bring your vision to life?
Marilyn: BLANCO has been and continues to be my go-to kitchen accessory when it comes to kitchen sinks. The durability and function alone makes it very attractive. However, in the case of the coffee/beverage center, space was a challenge and installing a BLANCORONDO™ Bar Sink seemed like the opportune solution. I'm of the belief that when spacing is a challenge, round is better and it worked out perfectly.
BLANCO's state-of-the art kitchen designs are continuously featured on Houzz.com. This trendy design site allows visitors to browse over 5 million interior design photos featuring everything from decorating ideas to home professionals.
Here are a few of our favorite BLANCO kitchen designs now featured on Houzz.
Mesquite Kitchen Update
Snappy Kitchens, in Dallas, TX  created a beautiful traditional space using a BLANCO RADOS™ with pull-down spray faucet in Satin Nickel, paired with a BLANCO 1-3/4 DIAMOND™ SILGRANIT® sink in Biscotti. The Biscotti color illuminates this kitchen as well as creates a toasty, comfortable vibe.
Naturally Beautiful and Modern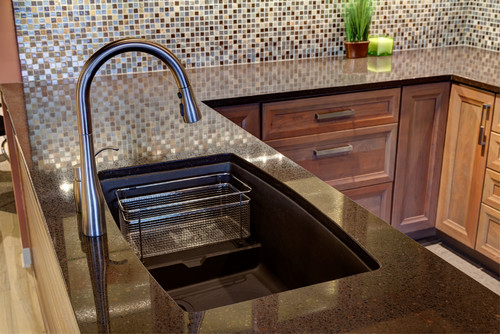 Designers Point, in Rolling Meadows, IL selected this Café Brown BLANCO PERFORMA™ CASCADE SILGRANIT sink as well as the sleek countertop to give this kitchen a transitional look. With its patented strength and durability, SILGRANIT offers unsurpassed hardness and scratch resistance.
Painted & Patterned Kitchen
Studio 76 Kitchens and Baths, in Twinsburg, OH specified a BLANCO DIAMOND™ SILGRANIT 1-1/2 bowl kitchen sink in Truffle to match with soft painted green cabinetry by Custom Cupboards. A patterned quartz countertop by Cambria in Bellingham gives a textured appearance and earthly colors on the walls help to soften the modern stainless appliances.
What's Old is New Again
Hatchett Design/Remodel in Newport News, VA placed a BLANCO DIAMOND™ SILGRANIT 1-1/2 bowl kitchen sink with an oil rubbed bronze faucet into this transitional kitchen. New Chocolate Fiorito granite tops with Ogee Edge make this kitchen a beautiful mix of contemporary and traditional elements.
BLANCO expands their exquisite Fireclay collection with the addition of a second color, Biscuit. CERANA
features a unique, reversible design with two different corner styles to feature either a traditional rounded or contemporary contoured apron front. Made of natural material, BLANCO CERANA™ is highly resistant to shock, heat, acid, discoloration and chips.
"The luxurious BLANCO CERANA™ makes a statement on many levels,"states Tim Maicher, Director of Marketing for BLANCO. "Now, with the addition of our unique Biscuit color we are able to offer a warm and neutral feel providing for much more versatility. We're seeing the fusion of traditional and contemporary in kitchen design today. The same is true of CERANA. The expanded Fireclay collection has introduced a new color that is a perfect match for today's kitchen trends with natural surfaces and cabinetry."
BLANCO CERANA's ultra durable surface is fired at over 2,100° F with a center drain location and 9-1/4″ bowl depth made of a proprietary Fireclay process allowing for a perfect, smooth and easy-to-clean exterior. Its durability blended with sophisticated styling and ultra slim design make it one-of-a-kind.
BLANCO CERANA kitchen sink
Available in two reversible apron front single bowl styles: 30″ and 33″ and one bar bowl style: 18-7/8″
Available in Biscuit and White
For 90 years BLANCO has quietly and passionately elevated the standards for luxury sinks, faucets and decorative accessories. BLANCO attributes its success and longevity to our passion for excellence and our commitment to people. This is evident in the quality of our products and the people who make up the BLANCO family. We dedicate this anniversary issue to all those who have helped make BLANCO a leader in the kitchen industry throughout the last 90 years. Join us as we celebrate this important milestone! Click here to view this issue of Inspirations, we hope you enjoy!
BLANCO brings style and quality to a new level with a beautiful addition to their faucet collection, the N
APA Bar. The NAPA Bar with Pull-Down Spray encompasses functional performance and livable design in a magnificent Polished Chrome or classic Stainless Steel.
"The latest addition to our faucet collection, the NAPA Bar offers a livable design," stated Tim Maicher, Director of Marketing for BLANCO. "Livable design is a transitional design with organic elements and pure performance. When we say transitional, we are referencing a design that leads trends while integrating a balance between contemporary and traditional style. At the same time, we are talking about the faucet's graceful organic lines, durability and functionality which propels it from transitional to truly livable design."
BLANCO NAPA Bar Faucet with Pull-Down Spray
Dual spray feature
Perfect for traditional and contemporary kitchens
Solid brass body
Ceramic disc cartridge
2.2 Gallons Per Minute (GPM) flow rate
Limited lifetime warranty
BLANCO proudly announces its finalist nomination for the 2015 NCW Magazine Eco-Excellence Award™ for the BLANCO MERIDIAN water-saving faucet in the Home Appliances category. The Eco-Excellence awards, regarded as one of the largest media awards, recognize products in over 15 categories which stand out for their social and environmental sustainability.
"BLANCO strives no only to create products that raise the bar in the kitchen industry but also help preserve the environment and our communities," states Tim Maicher, Director of Marketing for BLANCO. "We are proud that the BLANCO MERIDIAN™ has been recognized and selected as a finalist for such an environmentally conscious and highly regarded award."
The BLANCO MERIDIAN 1.5 GPM faucet is designed to increase water savings by 32% versus standard faucets while exceeding requirements set forth by CalGreen, (California's Green Building Standards Code).
NCW Magazine is the leading lifestyle publication addressing the needs of the modern family. Public voting for the 2015 Eco-Excellence Awards™ opens on Monday, June 18th  on the NCW Magazine website. Readers can cast their votes for their favorite products up until Tuesday, July 10th.
Vote for BLANCO by visiting the voting site here.