If yours is among the 5.1 million families that the U.S. Census Bureau says live in multi-generation homes, there are eight tasteful ideas that can help you make your kitchen better for everyone.
Whether your parents, your adult children or both are moving in with you, these tips may help
make living together easier on everyone:
• Go big or go small: Put in a kitchenette with a microwave, fridge and sink near an easily accessible bedroom or go for a large gourmet kitchen with a kitchen island if there will be more people eating at different times of the day.
Allow for wide aisles so many people—including those with a walker or a rolling baby chair— can use the room without getting in each other's way.
Consider a second dishwasher, stove or refrigerator.
• The height of convenience: Vary counter thickness and height and go for multilevel divided sinks to make lifting pots and pans easier.
Lower the cooking surfaces, too, so seeing inside pots can be simpler.
• Swing time: Pull-out shelves give you easy access for under-cabinet storage without a lot of bending, stooping and digging around.
• Rise to the occasion: Integrated toe-kick ladders that hide under cabinets can help everyone reach the high shelves with less stretching and more safety.
• Here's a bright idea: Older eyes often need more light, so improve visibility inside drawers with integrated LED drawer lighting.
• Don't get a handle on the cabinets. Sleek, handle-less design makes cabinets easier to open.
• Keep it down. Replace cabinets with drawers below counter-tops and place microwaves under the counter. Many families are finding that with a little effort at accommodation, two, three or more generations can live happily together under one roof—and using one kitchen.
• Smart sinks. If several people will be cooking different meals at the same time, multiple sinks might be in order. If there's just one sink, consider single-lever faucets that are easier to turn on and off and to control the temperature, even for someone with arthritis. Similarly, a magnetic pullout for a chef faucet—a unique feature of the BLANCOCULINA™—is easier to use than a standard hook. The magnet, not a hook, holds the faucet in place until it's time to use it again.
Kitchen sinks with integrated accessories, such as those in the BLANCO ONE™ collection,
keep tools convenient so you don't have to search for them, plus they save space. In-sink caddies can hold knives, utensils and cleaning tools inside the sink to save counter space and provide greater convenience. Cutting boards and colanders integrated with the sink can make food preparation more convenient.
If someone in the household uses a wheelchair or is likely to someday, you can have a kneehole put in under the sink with an inclined board to cover the plumbing.
More clever ways to improve your kitchen can come from the experts at BLANCO, known for innovation, design and functionality.
To learn more visit: www.blancoamerica.com.
The BLANCO VALEA™, a durable and highly functional SILGRANIT® sink, is now available in 8 natural colors, ranging from cool to warm tones, that complement a range of countertop materials.
"The VALEA is the ideal everyday sink because it can handle rigorous daily kitchen activities and still look like new," states Tim Maicher, Director of Marketing for BLANCO. "Our patented SILGRANIT II surface adds color, style and functionality. The VALEA is resistant to heat, scratches and stains adding to its endless appeal."
The BLANCO VALEA is now available in 8 colors including, Biscotti, Café Brown, Cinder, Anthracite,
Custom accessories sold separately include a Cutting Board (slides on countertop) and protective Stainless Steel Grid.
Details
80% solid granite
Bowl size- 30-1/4" x 17-1/4" x 9-1/2 D
Limited lifetime warranty
BLANCO was recently featured on Homemade Delish, by Philadelphia chef and blogger Roberta Pipito.  Pipito selected the BLANCODIAMOND™ Single Bowl in Truffle as well as the BLANCOCULINA™ MINI as part of her kitchen remodel.
After experiencing wonderful results with her new kitchen and BLANCO products, Pipito shared this delicious recipe for Thai Chicken Lettuce Wraps. Make and enjoy!
Sauce Ingredients:
1 tablespoon creamy peanut butter
1 tablespoon honey
1-1/2 teaspoons soy sauce
1/2 teaspoon sesame oil
1/2 teaspoon freshly grated ginger
1/2 teaspoon Sriracha sauce
1/4 teaspoon sesame seeds (optional)
Main Ingredients:
1 1/2 lbs chicken breast
½ cup julienne sliced carrots
1 cup broccoli sprouts
5 oz can sliced water chestnuts
½ cup white onions, chopped
½ cup chopped peanuts
½ cup chopped cilantro
2-3 tablespoons canola or peanut oil
3 garlic cloves, minced
4 green onions, chopped
1 teaspoon Sriracha sauce
1 teaspoon soy sauce
2 cups of shredded cabbage (store bought coleslaw package works as well)
salt & pepper, to taste
½ teaspoon turmeric
1/2 of a small ginger root, shredded
1 red bell pepper, diced
8-12 bibb cup lettuce or romaine lettuce
Preparation:
Cut chicken into cubes. Season chicken with salt, pepper, turmeric and minced garlic.  Place olive oil on hot skillet on med high heat to cook chicken until golden.
Then add onions, cabbage, carrots, peppers, broccoli sprouts, ginger and stir. Cook for about 10 to 12 minutes on med heat.
Next add water chestnuts, green onions, peanuts, cilantro, sriracha and soy sauce. Season with salt and pepper to taste.
Stir everything together. Allow the mix to cook for another 2 minutes or so.
Place mix into the bib lettuce, use some peanut and cilantro garnish. Serve alongside with a peanut sauce for dipping.
Sauce Preparation:
Whisk all the ingredients together and drizzle on top or place in a little bowl for dipping.
A guest blog written by Patricia Davis Brown featured on DigthisDesign.net
SMART home design is not just about technologies for the home, it's also about products designed to function in multiple ways. Most families live a multitasking kind of life and it is necessary to find products that allow them to do this well!
It doesn't matter if your kitchen is large, medium or small, today's kitchens are open and function, best set up in zones, cleanup, cooking, and storage. Each zone needs to be as functional as possible so you're not running all over the place to accomplish your task. The modern family sometimes have multiple cooks that enjoy sharing the cooking duties, and products need to be designed to accommodate this type of living by making each zone completely self-sufficient. Let's take a look at some of my product picks that will make the most out of your space.
The Chef Sink
This is a must have in any modern kitchen and my favorite of the bunch is the new BLANCO QUATRUS™, offered in six bowl configurations to fit your individual needs. This style of sink is designed to be personalized with optional accessory inserts, to enhance the homeowners cooking, cleaning, entertaining or organizing needs. I am like a kid in a candy store over their menu of accessories. The Workstation is dishwasher safe and holds sharp knives and utensils safely with removable pieces for drainage and cleaning, yes they have thought of everything! The cutting board is made of Ash wood, which fits into the sink for ease of storage and is equipped with rubber feet to be able to set on the counter safely. The Magnetic Sink Caddy holds and organizes cleaning tools inside the sink, so there is no visible mess. Customized Stainless Steel Grids fit each size bowl for protection. Exclusively offered for the Super Single Bowl is the Multi-Level Stainless Steel Grid, which serves as an additional rack above the base grid, designed for additional use on the countertop as a trivet for pots and pans. Because of the versatility each sink offers, you could have one at an island for prep and one as the main cleanup sink. I love this idea for multiple cooks working together!
Many of my clients are environmentally friendly and love that BLANCO has thought of everything including a compost system. The BLANCO SOLON™, collects organic waste through their stylish bin, to be stored beneath the counter, creating not only a SMART clean up zone but, a GREEN living one as well.
BLANCO introduces two new designs to their line of decorative soap dispensers to match the popular faucets
NAPA™ and SONOMA™. The line, now with seven styles is crafted to match their entire faucet collection. The dispensers can be used for either liquid dishwashing or hand soap. The dispensers are engineered to never clog or drip. The brass is specially treated to protect against discoloration and corrosion.
"Our latest soap dispensers offer livable design," states Tim Maicher, Director of Marketing for BLANCO. "Livable design fits the way you live at home by combining transitional styling with an organic feel. The design lines are organic or inspired by natural elements. The combination, we like to call "livable" design."
BLANCO NAPA Decorative Soap Dispenser
Solid Brass Construction
Height 1-3/4″
Reach 3″
Hole Size 1-3/8″
Shank Outside Diameter 1″
Reservoir Approx. 12 oz.
BLANCO SONOMA Decorative Soap Dispenser

Solid Brass Construction
Height 1-3/4
Reach 2-1/2″
Hole Size 1-3/8″
Shank Outside Diameter 1″
Reservoir Approx. 12 oz.
BLANCO is now proudly featured in the 46th Symphony Designers Showhouse located in the Historic Hyde Park in Kansas City, Missouri. The Designers Showhouse is home to the Kansas City Symphony Alliance, a nonprofit volunteer organization which promotes an interest in classical music throughout the Kansas City area.
Designer and Allied ASID member, Susan Prestia was able to provide BLANCO with a look inside the Symphony House remodel and what went into creating such a beautiful space.
Q: What was your inspiration for this design?
Susan: Historic Homes are great to rejuvenate. This 1911 house was built for a lumber baron so woods through out the house have wonderful grains and quality. Working kitchens of the day would have been in the lower level with a small prep kitchen and butler's pantry on the first floor. The house was a Kansas City Symphony Designers Showhouse in 2000. Just prior, the kitchen and butler's pantry was updated which opened up the kitchen and butler's pantry to one awesome ready for entertaining kitchen. Beautiful, dark mahogany stained cabinets (similar to Espresso) lined the walls along with slate flooring(back in style,history's repeating itself). Re-user friendly. I create eco-friendly designs so re-purposing is always in my forefront. Replacing the worn Corian top and molded sinks with eco-friendly products was a must. Cambria counters are sustainable products and because BLANCO SILGRANIT sinks are easy to maintain, this is a pairing I use over and over again. Featured are the PRECIS ™  Multi-Level kitchen sink with drain grids, cutting board and colander for the main sink due to the purposely functional drain board (BIG HIT at the Showhouse by the patrons, my first time using the sink, but not my last). My number one selling sink, the DIAMOND™ 1 3/4 undermount bowl with SILGRANIT® for looks, durability and ease for cleaning used in the butler's area. Both Cambria and BLANCO clean with just antibacterial detergent. The lines mimic the beautiful curve lines at the top of the bowl.
Q: What was your biggest design challenge?
Susan: Selecting products with a WOW factor and being camera-ready in 9 weeks.
Q: How did BLANCO help with this design?
Susan: Many years ago a sales rep introduced me to BLANCO SILGRANIT. The features and benefits of the finish sounded too good to be true. After a few installs and clients loving the design, easy maintenance and looking good years later, what's not to like. The BLANCO accessories sell themselves. Clients love that they form to the shapes of the bowls (custom made), and their friends all want one.
I'm so fortunate to have received the support from BLANCO at the 46th Kansas City Symphony Designers Showhouse. The pleasure of giving back to the community is made with the gracious help of our wonderful vendors. So the next time a child goes on a school trip to the Symphony for the first time free we can thank our wonderful vendors for contributing to the Arts. Thank you BLANCO for your continuing support of fine products and the arts.
What's big in homes these days is small. That is to say, many young couples starting out, downsizing empty nesters and singles of all sorts are reveling in their tiny houses or microapartments. After all, they don't need bookcases, record racks or a lot of other furniture that used to be thought essential. Once the futon is folded away, however, there's still the problem of how to turn out great meals in a tiny kitchen.
Here are five hints that can help.
1) Everything IN the kitchen Sink: You can now get a not-too-big sink with the drainboard built in. A cutting board and grid are also built in,
making the sink a functional working space.
The BLANCO PRECIS™ Medium Single with Drainer offers a crisp angular design, durable surface and a unique, wave-shaped, integrated stainless grid that effectively doubles the drying area.
Because it comes from BLANCO, it's made of SILGRANIT® II, which offers an extremely hygienic surface that's safe for food prep and easy to clean.
2) The countertop is where you can keep a lot of accessories. From knife and spice storage to paper towel holders, a decorative space-saving system is a great way to keep them organized.
A cleverly designed kitchen sink that includes a drainer and cutting board such as the PRECIS can help you create
great meals even if you don't have a lot of space.
3) Let things slide in your kitchen. That is, keep pots, pans, dishes and canned goods on sliding shelves that can not only let you use "blind" space but keep bending, stretching and searching for things to a minimum.
4) Things can be simply rolling along if you have a rolling cart, particularly one with a cutting board top and shelves or drawers underneath. You simply push it to wherever you want to do your kitchen work—or just to the part of the room that's least cluttered.
5) Rack 'em up. A ceiling rack will let you hang up your pots and pans where they're convenient to get to, out of your way and able to double as decorative accessories.
For more space saving fixtures, visit www.blancoamerica.com
The 2015 eBrochures are here including the new 2015 Showroom Catalog, SILGRANIT® Brochure and exciting new innovation brochures including the QUATRUS™ and ONE™ Collections.
You can conveniently link to each brochure by clicking on the image below or by clicking on the ebrochure tab above.
Designer and BLANCO Design Council Member, Marilyn Russell was recently asked to create a new kitchen for her clients based upon their love for European travel and fine wine. Marilyn welcomed this exciting challenge and with a little help from BLANCO she was able to put together a stunning space for her travel-enthusiasts.  Check out BLANCO's interview with Marilyn below.
Q: What was your inspiration for your kitchen design?
Marilyn: I drew my inspiration directly from my clients and their love for wine and European travel destinations. My clients were quite forthcoming and honest in what they wanted in their new kitchen. Crafting a kitchen based on their needs while incorporating aesthetics balanced with function was not overtly complex.
Q: What would you say was your biggest design challenge?
Marilyn: Like technology along with our daily needs, I think the use of kitchens have evolved from
being cooks only to becoming a central pod for family members. From reading to paying bills to family meetings, the kitchen is the primary destination in many households. Challenges may surface when a designer considers all those activities into a small to medium sized space. One such design challenge occurred with transforming an area within the kitchen that once housed a washer and dryer. The clients wanted the washer and dryer relocated to another desired location in the condominium and now we were faced with an empty space. We decided to transform this new space into a coffee/beverage station with a second sink, appliance garage and additional cabinet storage. The clients are quite happy with this transformation.
Q: How did BLANCO help bring your vision to life?
Marilyn: BLANCO has been and continues to be my go-to kitchen accessory when it comes to kitchen sinks. The durability and function alone makes it very attractive. However, in the case of the coffee/beverage center, space was a challenge and installing a BLANCORONDO™ Bar Sink seemed like the opportune solution. I'm of the belief that when spacing is a challenge, round is better and it worked out perfectly.
BLANCO's state-of-the art kitchen designs are continuously featured on Houzz.com. This trendy design site allows visitors to browse over 5 million interior design photos featuring everything from decorating ideas to home professionals.
Here are a few of our favorite BLANCO kitchen designs now featured on Houzz.
Mesquite Kitchen Update
Snappy Kitchens, in Dallas, TX  created a beautiful traditional space using a BLANCO RADOS™ with pull-down spray faucet in Satin Nickel, paired with a BLANCO 1-3/4 DIAMOND™ SILGRANIT® sink in Biscotti. The Biscotti color illuminates this kitchen as well as creates a toasty, comfortable vibe.
Naturally Beautiful and Modern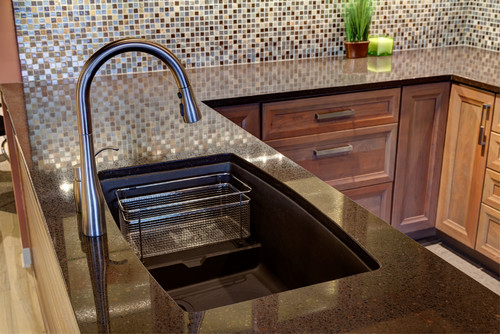 Designers Point, in Rolling Meadows, IL selected this Café Brown BLANCO PERFORMA™ CASCADE SILGRANIT sink as well as the sleek countertop to give this kitchen a transitional look. With its patented strength and durability, SILGRANIT offers unsurpassed hardness and scratch resistance.
Painted & Patterned Kitchen
Studio 76 Kitchens and Baths, in Twinsburg, OH specified a BLANCO DIAMOND™ SILGRANIT 1-1/2 bowl kitchen sink in Truffle to match with soft painted green cabinetry by Custom Cupboards. A patterned quartz countertop by Cambria in Bellingham gives a textured appearance and earthly colors on the walls help to soften the modern stainless appliances.
What's Old is New Again
Hatchett Design/Remodel in Newport News, VA placed a BLANCO DIAMOND™ SILGRANIT 1-1/2 bowl kitchen sink with an oil rubbed bronze faucet into this transitional kitchen. New Chocolate Fiorito granite tops with Ogee Edge make this kitchen a beautiful mix of contemporary and traditional elements.